Thanksgiving Dinner To Go and Catering
Heat and Serve & Hot and Ready Options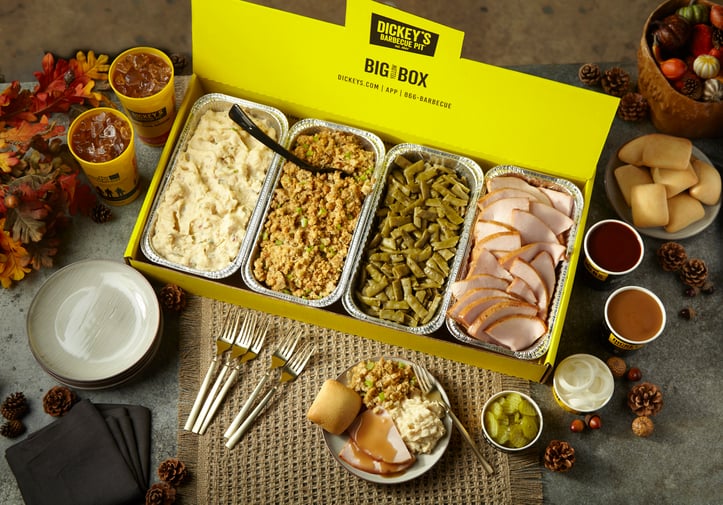 Looking for the best Thanksgiving dinner to go, we got just the right thing for you to make this holiday season stress-free. Visit Dickey's Barbecue Pit for the best thanksgiving menu with feasts and precooked turkey for Thanksgiving ready to be pre-ordered! Our quick and easy thanksgiving dinner to go comes with easy heat and eat instructions! Choose one of our Thanksgiving feasts available to order online or in our Dickey's app for takeout. Choose from our Complete Feast, Dinner Feast, Cajun Turkey, Holiday buffets, or even our Holiday Big Yellow Box. That once-a-year feast cannot be complete without the iconic Thanksgiving side dishes. Dickey's made sure to complete your Thanksgiving Day spread with savory sides with a southern twist, like baked potatoes casserole, cornbread dressing, and even bacon and green beans! Don't forget to get a pie or two, we have got the best pies for thanksgiving, pumpkin pie and pecan pie!
Dickey's also offers their guests multiple a la carte options for meats and family-size sides. With the help of their experienced pitmasters, you will know exactly how much barbecue to order per person for your holiday meal. As of October 1st, the world's largest barbecue concept is offering two festive heat-and-serve meals that are perfect for any holiday gathering. All Complete Feast orders placed from October 1st – November 11th will receive a FREE Pumpkin Pie with their order. Dickey's Barbecue Pit will be CLOSED on Thanksgiving day so be sure to pre-order your Thanksgiving dinner for pick up or delivery by Wednesday, November 23rd, 2022.
Heat & Serve
Have a Thanksgiving dinner menu ready in under two hours!
Save time this holiday season by ordering ahead from Dickey's Barbecue Pit for Thanksgiving dinner. Choose from our go to favorites from Spiral Cut Ham, Smoked Turkey, Cajun Fried Turkey, or even Prime Rib. Celebrating big this year? Be sure to complete your Thanksgiving spread with our savory southern style sides to get the perfect Complete Feast. Pair up your choice of meats with
Cornbread Dressing, Gravy, Baked
potato Casserole, Green Beans
with Bacon, and 12 buttery rolls. Our Complete Feast is perfect for the whole family, serving up to 10-12 people.
Dinner Feast
When you have your closest friends and family over for Thanksgiving dinner, we are sure you want to enjoy the party too! Keep it real simple and easy this year with our perfectly portioned Dinner Feast. Choose from Smoked Turkey, Cajun Turkey, Spiral Cut Ham or Prime Ribs plus Cornbread Dressing, Gravy and 10 Buttery Rolls. Our Dinner Feast is perfect for your closest family friends, serving up to 8-10 people.
Smoked Turkey and Cajun Fried Turkey
Serves up to 10-12 people
Spiral Cut Ham
Serves up to 10-12 people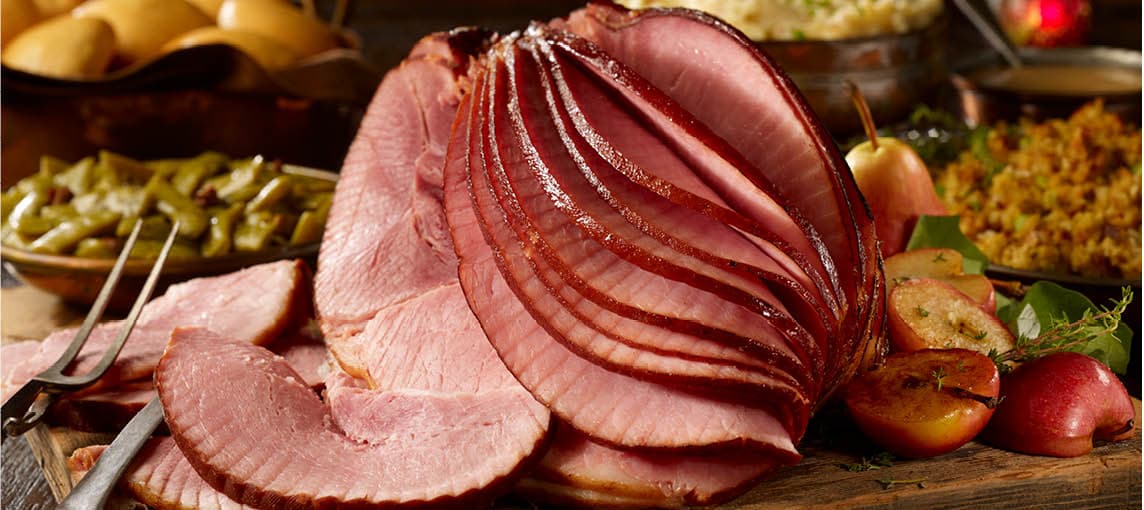 Prime Rib
Serves up to 8-10 people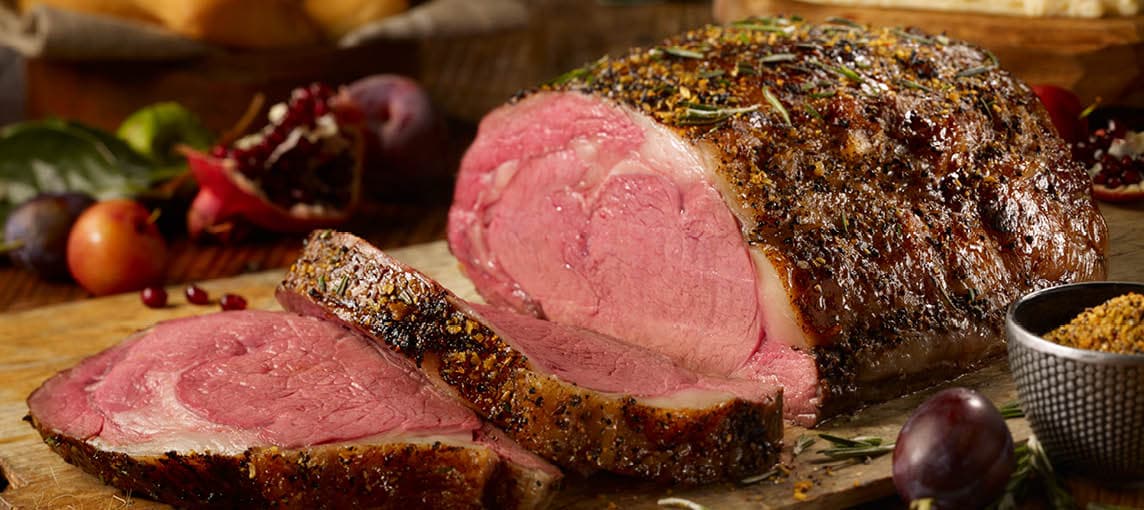 'Cue Up Your Thanksgiving Dinner
Holiday Buffet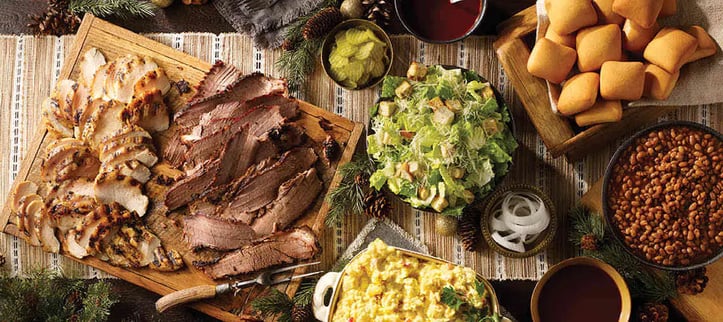 Calling all barbecue fans, foodies and lovers, enjoy a Texas Thanksgiving with the best barbecue restaurant! What better way to celebrate Thanksgiving this year than with some hickory wood smoked barbecue? Our catering menu has all you need to go all out without all the cooking. Get a little bit of everything from our slow smoked meats, southern style sides, and more! Dickey's buffet includes your choice of 2 slow smoked meats, 3 sides, and our authentic barbecue sauce. The Holiday Buffet is served with a relish tray, buttery rolls, and even paperware per person, making this years Thanksgiving dinner as easy as ever. Be sure to add extra pounds of meat, southern style sides, sweet desserts, tea, and more as needed. Want to have your Holiday Buffet to be individually packed? We got you covered for an additional cost. Holiday Buffet has a 10 person minimum.
Holiday Big Yellow Box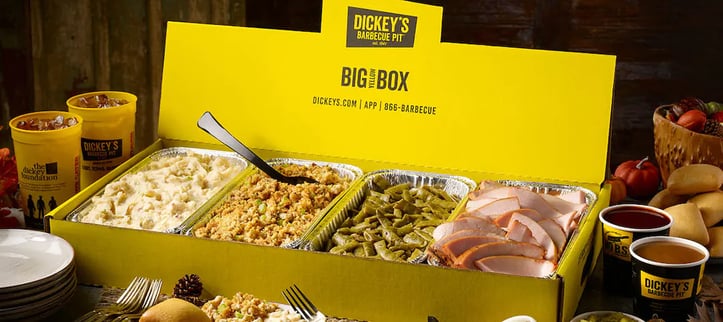 Craving for some 'cue? Order from our authentic Dickey's BBQ menu this holiday season with the best barbecue smoked low and slow. Feed the family with our handy all in one combination of 4 pounds of Sliced Turkey, Large Baked Potato Casserole, Large Green Beans, Large Cornbread Dressing, 12 Buttery rolls, Pickles, Sliced Onions, Dickey's Original Barbecue Sauce, and Turkey Gravy, perfect for a barbecue Thanksgiving dinner. It truly doesn't get better than this, plus you won't have to worry about spending hours preparing for Thanksgiving dinner. Dickey's Holiday Big Yellow Box feeds up to 12 people.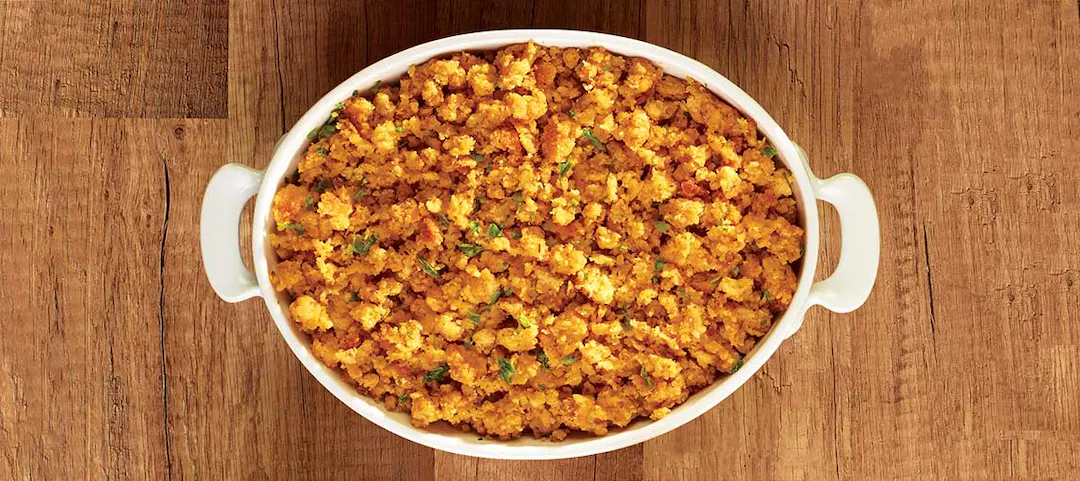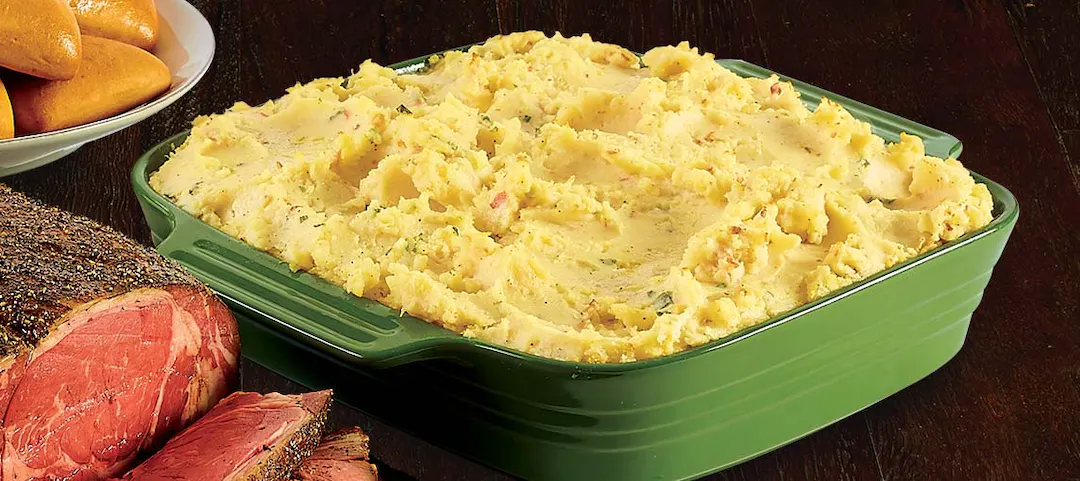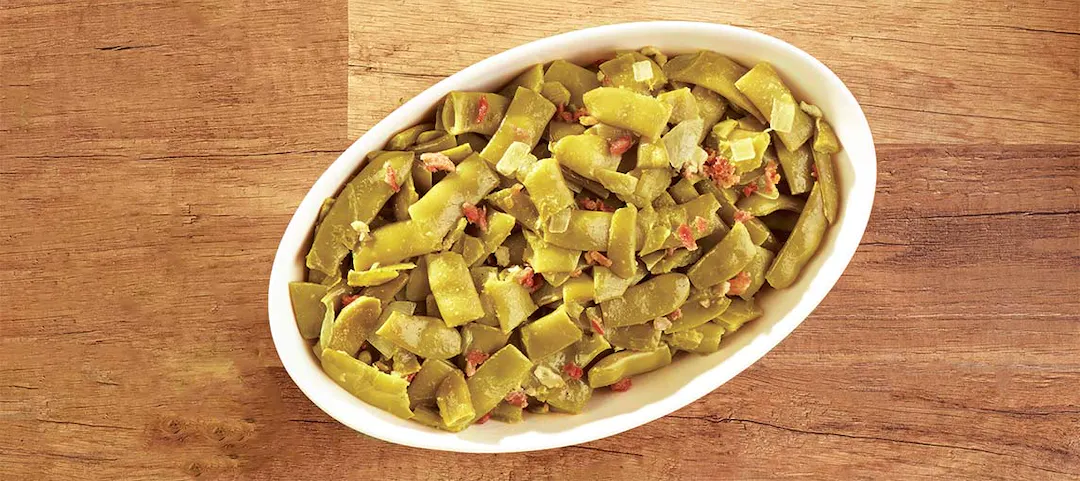 DOWNLOAD HEAT & EAT INSTRUCTIONS
To get the Dickey's Heat and Eat instructions for our holiday menu, CLICK HERE.
Set oven to 350°F for all holiday products
Thanksgiving Desserts
Don't forget to make room for dessert! Just remove from the package, thaw, and serve.
Our pies come in two festive flavors. Choose from:


Pumpkin Pie
Pumpkin pie, the hallmark of Thanksgiving and a delectable spiced, pumpkin-based custard filling.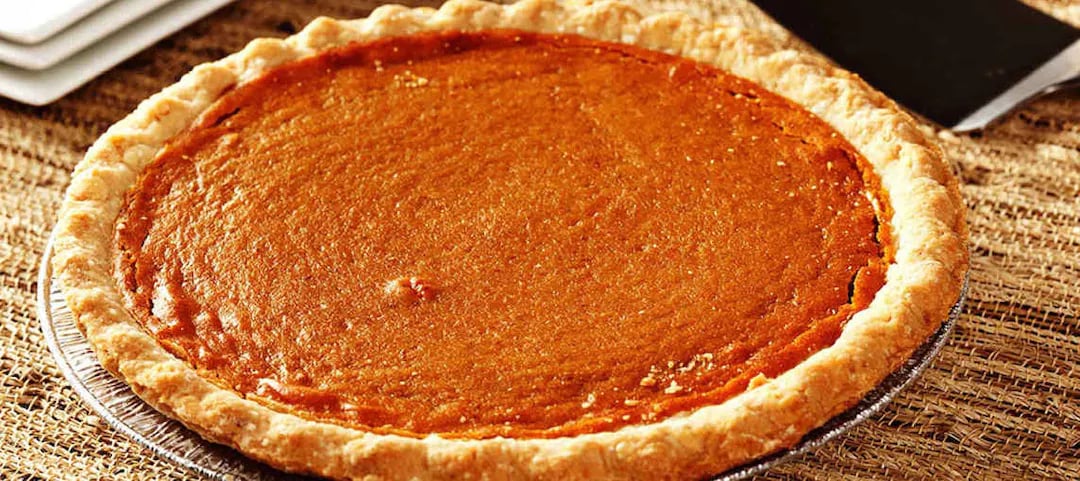 Pecan Pie
A delicious combination of a buttery crisp pastry with a rich and chewy filling that is loaded with toasted pecans.
When is the last day to order Dickey's for Thanksgiving day?
How many people does the Complete Feast serve?
How many people does the Dinner Feast serve?
How do I heat and serve my Thanksgiving dinner?
How can I get a free pumpkin pie?